In the 70's, Brazilian chemical products market was almost totally dependent on international companies. Due to oil crisis, there were many problems in imports and constant shortages in the local market.
At such time, Milton Kogler worked as consultant for some companies in the tannery sector, and he was challenged by one of his customers to solve the shortage of a surfactant used in the fat removal and washing of skins. With his knowledge in chemistry and leather technology allied with a great investigation, he found a solution! However, the product required a change in the process. He made it and discovered the formula that would guarantee his success for many decades: the combination of service, product and process.
Then, on September 01st, 1979, the first company of GRUPO MK, called Milton Kogler Ltda., was born. The company started to meet the demand from sheep skin tanneries, extending the line for other sectors in the leather industry. In September 1981, MK Indústria Química Ltda. was created at the margin of RS-240 Highway, in Portão.
In 1987 the implementation of a new industrial plant at Estrada Boa Vista Street, where the company is headquartered nowadays, took place. In September 1988, MK Química do Brasil Ltda. was funded, increasing the supply of chemicals for the leather industry. In 1989 the first truck was purchased in order to make the delivery of the products faster. It was the origin of MK CARGO, a company nowadays specialized in chemical product transportation services.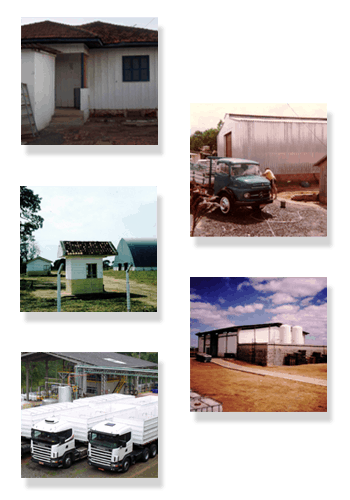 In the 90's MK QUÍMICA was consolidated in the Brazilian market as one of the most important suppliers of chemicals for the leather industry, expanding its operations to other countries. In 1998 the diversification process started with the development of new product lines for other sectors. For this purpose, the productive structure in Portão was expanded with the installation of a polymerization plant. In 1999 the company obtained the Quality System certification according to ISO 9001.
In order to support such growth, in 2000, a unit was installed in the Northeastern Region of Brazil, in Juazeiro (BA). In 2004 MK was 25 and opened the Midwest Unit, in Três Lagoas (MS).
Still in 2004, the production of bonded leather took place with the creation of SOLUS, which brings shoes, accessories, furniture and decoration, new composites with technical and finishing characteristics that meet different applications.
In 2009 MK QUÍMICA started to work in the textile industry through a development and technical support team, a characteristic in the company's DNA. In 2014 it started servicing other sectors through the supply of performance, food conservative and Arla 32 chemical products.
Nowadays the companies in GRUPO MK meet different demands of the industrial market, being present throughout Brazilian territory and abroad. A solid journey that projects a future of sustainable growth!